Well, well, well, someone hasn't been very active or communicative recently have they?
We apologize for that. On the bright side, we've got a lot to say and a lot to look forward to!
Firstly, "Apocalypse" has launched and we all survived!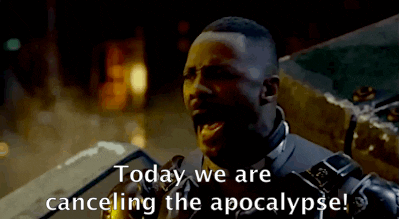 (nothing is cancelled, do not be alarmed)
That's something to be very proud of—most so for our wonderful contributors this issue. Especially, we'd like to thank Ahmed Al Awahdi, Hayden Stockwell, Sarah Oakes (also our amazing cover artist), Mikaela Shilling, Ian Campbell, and Matthew Park for reading at our launch, the University Bookstore for hosting us, and everyone else who attended. Y'all made it a great night.
The process of distributing the magazine is slower, unfortunately. UBooks may still have some copies, Bulldog newsstand received copies but they may not be for sale yet, and the pdf is available here. English Advising does not have any yet.
Of course, if you're truly desperate for a copy for an apocalypse, this Tuesday we'll be tabling in front of the HUB, along with many other UW student publications. Stop by, mingle, make some worthy purchases, and enjoy the (hopeful) sunshine!
Before we leave off, we'd like to remind everyone that we're looking for editors for next year—the actual interview process will probably take place in autumn, but keep an ear to the ground for future updates.
Best of luck with the rest of the quarter, and hope to hear from you again soon!
AU